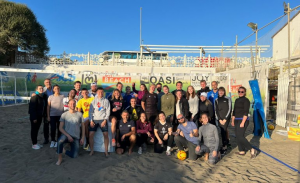 The meeting in Italy was an opportunity for twenty-eight young leaders from the six basic sports organizations of the CSIT network to live and spend three days all together in Rome hosted by AiCS. The participants held a meeting aimed at improving knowledge and skills in the field of sports management. In particular, in this third edition of the European project, the focus is on involving young people in defining future policies relating to youth camps in grassroots sport. All this also through intergenerational dialogue with CSIT members, thanks also to the help of special working groups. In Rome, the young people were therefore able to dialogue, as well as with Anu Rajajarvi – head of CSIT youth policies – also with the three sporting directors of CSIT – Henk Bouchoms, Georges Michel and Harold Van Hest.
Each group, after having worked at national level in the selection of good practices inherent to the camps carried out on its territory, was able to bring out, through non-formal education methodologies, which are the most important aspects at the basis of which the new camps will have to refer.
Among the most important issues it should be highlighted, how fundamental it is, in order to attract young people, to ensure that the camps are places of entertainment and cultural exchange in which, through sports practice, it is possible to deepen relevant issues, chosen by the young people themselves, such as those of environmental sustainability and healthy lifestyles.
During the meeting, the young leaders of the basic sports sector also had the opportunity to spend hours of sport, in order to learn more about the sports of reference and the different types of basic sports facilities, thanks to the Sportintour hospitality on the beach fields of Ostia's Oasi beach.