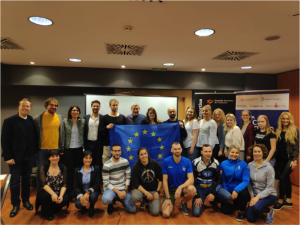 The first transnational meeting was held in Tortosa (Spain) during the CSIT executive committee from March 7 to 9. It was a 2 days meeting with the aim to present the project to the participants and to map the training needs for developing skills of young leaders in grassroots sport management.
During the two days, 20 young participants had the possibility to meet the main executive roles of CSIT having a structured dialogue with them.
CSIT President: Bruno Molea
CSIT General Secretary: Wolfgang Burghardt
CSIT Sports Director: Henk Bouchoms
CSIT President Officer/ EU Project Manager: Valeria Gherardini
CSIT Youth & Young Leaders Activities: Anu Rajajarvi
CSIT Sport For All & Sport For Elderly People: Palle Thomsen
Tortosa CSIT WSG2019: General Manager Roger Pedret (Municipality of Tortosa)and Chief Coordinator Joan Güell (UCEC)
CSIT President Officer / ICT Manager: oberto Vecchione
UCEC President: Jaume Domingo
Young participants presented their organization and the meeting was the opportunity to set up a platform in which the future young leader get to know each other exchanging impressions and ideas for new projects.
Thanks to the activities implemented by the team of trainers, some needs emerged more than others: getting more knowledges about what the projects and the events of their organizations are; understanding better what the possibilities in the grassroots sport are; increasing the possibilities of interaction with the adult leaders; developing knowledges and skills in administrative, financial and bureaucratic aspects; feeling and becoming part of a network at transnational level.
The last half a day of workshop with an audience composed of more than 30 representatives of sport organization and local institution. Young participants presented the outoput of the training so to increase their expertise on public communication skills.